Hi everyone! My name is Michelle and I'm so excited to be part of this ripple along.
I decided to do another round ripple afghan to replace one I finished last year but gave to my MIL because she wanted it so much. I made it in my son's high school colors and made the mistake of taking it to a football game that my MIL attended.
Because I have also joined a stash busting group I really wanted to make use of this green/blue yarn that I bought for another project but ripped out. It's going pretty fast.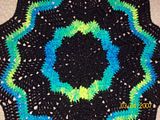 I love seeing everyone's ripples. They're all beautiful!
Michelle
www.mikknits.blogspot.com