Well crum. I'm gonna have to frog but at least I only worked one day on it. I used a single crochet chain instead of a regular chain because the Crochet Stitch Bible told me that it was going to be more stretchy. It was but it was also too tight and made the points of the ripple curl. This time I'll do the chain on a larger hook. Here's my pattern,
SusanB's Easy Ripple Afghan
See how the points are curled back on the work? Ugh.
The garnet(curling row), magenta(last row), grape(third row), lavender, green, and a medium and light pink(second row) all go well together. My colors aren't showing well. In real life they aren't as dark and are more vibrant than shown here.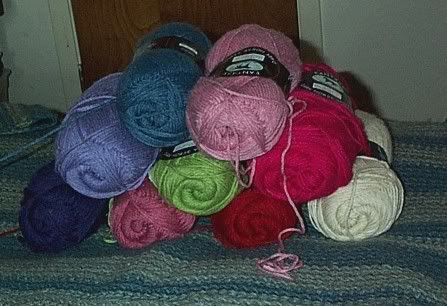 Fantasy Dark Horse Yarns 50% Nylon, 50% Acrylic. YUMMY SOFT!!
I may not use the country blue or the cream, they just don't seem to go.