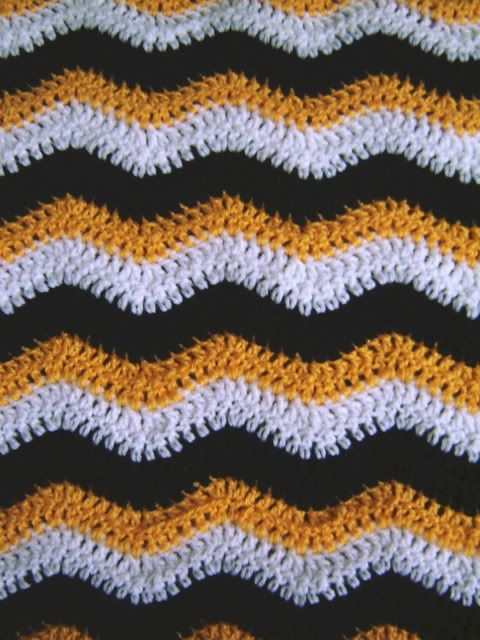 Ok, definitely NOT my first choice for colors OR yarn, but....you work with what you've got right? ;) In the meantime, I'll just burn my retinas looking at it :)
This crazy blanket started off with the idea of making a scarf for my husband for Christmas. He's a hawkeye fan, thus the black/white/gold. Tried knitting about 4 different patterns, frogged 4 different scarves, hating them all. Then decided to make it into granny squares, and make a blanket....hated those too. Just didn't look right.

So...balled it all up and stuck it back in the closet until finally one day thought "hmm...might as well use it as a practice ripple" since I still can't make up my mind on what yarn I want to use for my "real" ripple. So I decided to make it into a blanket for my son - who is 2 1/2 and thinks the colors are just fantastic ;)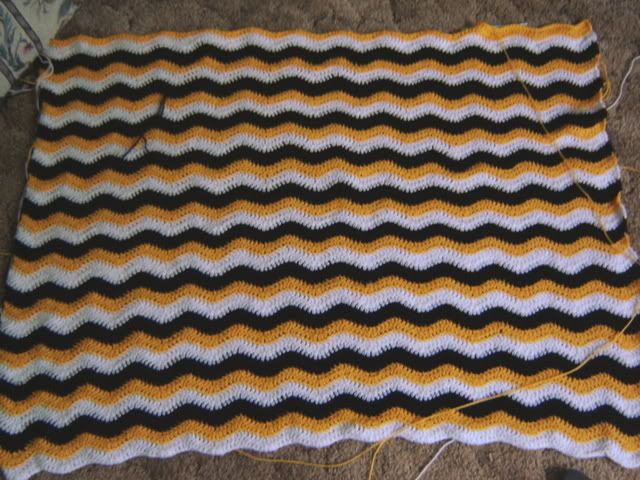 Its about half done, and when I took the pictures yesterday it was *about* 32" long and 45" wide. Guesstimate ;) I'll have to actually sit down and measure soon.
So that's where I'm at for now! I'll post when its finished.
(red heart acrylic yarn, 5mm hook, softwaves pattern)